Hey Look, We Got An Award!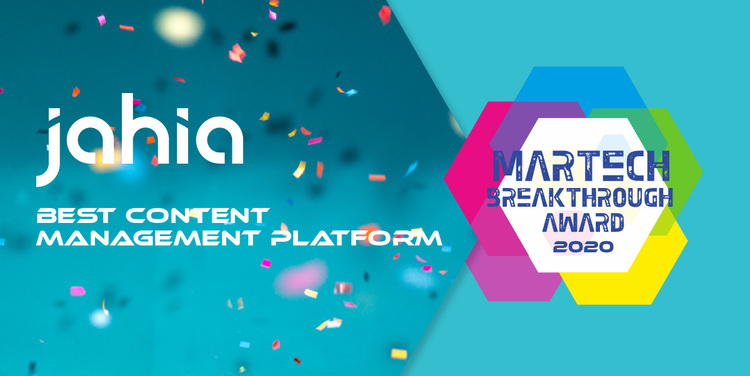 Jahia helps organizations across the world bring customer data and content together to deliver engaging, personalized experiences
Learn more


At Jahia, we often like to talk about how innovative our platform is and the value it can bring to your organization. Today, we let someone else do that for us.
MarTech Breakthrough Awards
The MarTech Breakthrough Awards just announced that Jahia's jContent solution has won their Best Content Management Platform award for 2020. Chosen amongst a list of some of the top solutions in Content Management, we're proud to be recognized for delivering a top-notch CMS solution to our customers all around the world.
More than that, though, we're proud about why we won the award.
The truth is, there are a lot of solutions on the market today that promise to solve general content management needs. Many of those are designed less around meeting specific requirements than delivering a one-size-fits-all platform that forces organizations to adapt their processes to fit the solution's idea of how content management "should" work. We believe there's a better way.
About jContent
jContent was designed from the outset to be a fully integrated, cloud-based CMS built around customizability, flexibility, and enterprise capabilities. The goal being, of course, that jContent would be able to scale to fit each organization's specific pain points and requirements. We accomplished this by building jContent as part our larger Jahia DXP platform, meaning users would be able to take advantage of the wider platform's capabilities while still focusing on the content management needs in front of them.
Our customers have shown us just how varied content challenges can be. From working in cohesion with legacy software to meeting geo-specific customer needs, jContent is designed to unify a much larger marketing technology stack. As we've seen the market shift over time, we've noticed our customers focus on bringing together best-of-breed technologies rather than all-in-one suites. With jContent, we're not just enabling this — we're encouraging it, with our software acting as the beating heart at the center!
Our 2020 MarTech Breakthrough Award just reinforces how our approach to content management is showing real results for organizations all across the world, and we'd love to tell you all about it. Contact us to learn more about jContent and how it can help your organization with its content management needs.
For more information on the Best Content Management Platform Award.
Back