Deliver better digital experiences
Jahia is a true Digital Experience Platform (DXP). Built to act as the backbone for your marketing technology stack, Jahia combines customer data with content management so you can deliver personalized, one-to-one experiences to your customers.
Thanks to its flexible architecture, integration capabilities, and cloud infrastructure, Jahia's platform will scale as you grow.
Enterprise CMS platform capabilities
The comprehensive Content Management System organizations are looking for
Build from one to hundreds of websites while maintaining brand consistency

Integrate with your business applications and authentication providers

Deliver rich authenticated user journeys by leveraging granular permissions

Optimize your experiences for higher conversion rates with built-in personalization, AB testing and analytics
More about Jahia CMS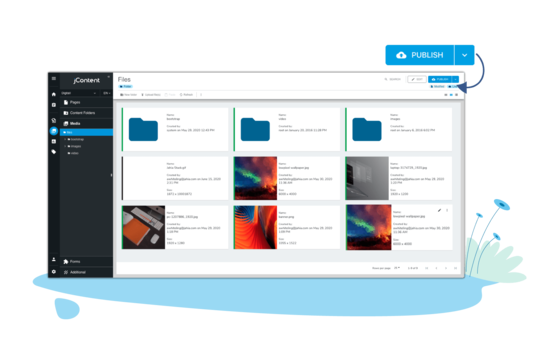 Jahia helps our small team achieve big goals. With an IT team of 17 people supporting a $16 billion business, efficient and effective technology is key to ensuring we hit our targets. Jahia is an important part of that.
– Carl Collin, VP Engineering, Architecture and Delivery, AllianceRx Walgreens Prime

READ THE CASE STUDY
Built-in Customer Data Platform
Manage All Your Customer Data from One Central Location
Collect rich data out of the box from any website or app you own: page views, site searches, form submits, downloads, logins, UTM parameters, geolocation, device…

Consolidate visitor and customer profiles across sessions, using profile stitching based on login data

Segment and score your audience in real time to feed analytics and personalization

Start collecting data from day one: no configuration or tagging plan required
More about Customer data & personalization
Optimized for conversions
Finally, a CMS with all the tools to help you convert!
Access the built-in Analytics in-context, directly from the content management interfaces, on all CDP data. Information such as top performing pages, top referrers for a given page at your fingertip

Understand your visitor browsing behavior by reviewing their page-by-page journey

Measure the ROI of any campaign (SEM, social media, retargeting..)

AB Test content & analyze conversion rates for each variant

Personalize any content in a couple of clicks, based on any data. Evaluate the impact of your actions using control groups.
More about Customer data & personalization
Best DXP for portals, apps & authenticated experiences
Unparalleled flexibility to leverage the best of your business ecosystem
Allow a diverse set of authentication methods (SSO, LDAP, Active Directory, SAML)

Enforce strict access policies based on granular customer permissions

Provide a modern and unified customer experience on top of legacy applications

Make any source of content easily searchable thanks to Jahia's federated search
More about Personalized Websites
DXP that fits in your stack
The future-proof platform for your next marketing tools
Break the customer data silos with StackConnect powered by Workato. More than 400 no-code connectors to various solutions, including CRM like Salesforce and Microsoft Dynamics or Marketing Automation software like Marketo or Mailchimp

Leverage your organization's existing assets by connecting your Document Asset Management (DAM) and Product Information Management (PIM) to your DXP

Collaborate with your team and customers by leveraging social integrations such as Slack, JIRA and Zendesk

Add any analytics solutions (Google Analytics, Adobe Analytics, ..) in a few minutes and enrich the dataset with personalizations and AB tests

Improve your user experience and boost your SEO performance by triggering SiteImprove and Contentsquare analysis

Go global easily and interface with automated translation services (GlobalLink by Translations.com)
More about Integrations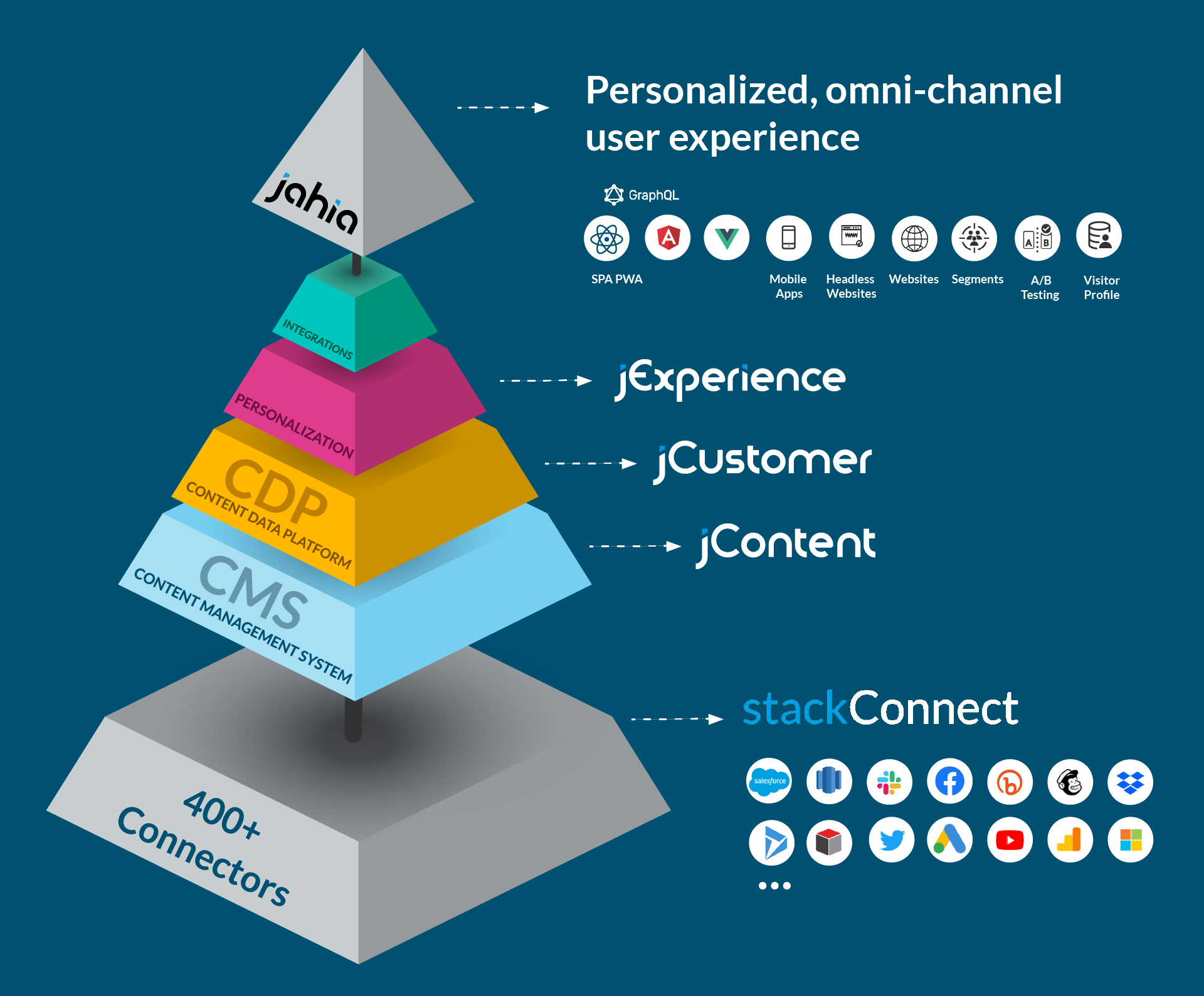 Secured and Scalable
We comply with the most secured and demanding standards
Rely on Jahia's stellar compliance program: ISO 27001, GDPR and HIPAA

Scale at will: our Cloud infrastructures auto-scale and are redundant across multiple data centers

Hold us accountable: Jahia commits to the most demanding service availability SLAs

Learn more about our approach to security in the Trust Center