What do our clients say about us ? - APEC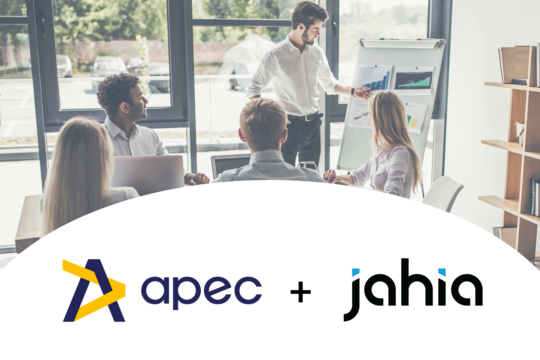 Meeting with Hélène Catinaud, Head of Research and Development at APEC's Information Systems Division. Apec is the french employment agency for executives.
The origin of the project
Before 2015, APEC, a key player in the executive skills market, was using two CMS developed in PHP, while the rest of their developments were done in Java. The organization wanted to harmonize the technologies used by switching to a single CMS developed in Java. Jahia was therefore chosen as a partner and since 2015 the apec.fr website, the user portal and the corporate.apec.fr website are managed on the Jahia platform.
Stability and reliability at the heart of a smooth collaboration
"The Jahia servers are relatively busy and we have no problems in production. We are very confident about the stability of our information system in relation to all the traffic we can have," explains Hélène Catinaud when asked about the benefits of Jahia.
With an average of 1,8 million visits/month, the reliability and stability of the platform is critical for a site like apec.fr. Thanks to its high availability rate, the Jahia CMS allows the site to be available at all times.
A strong need for integration...
From the very beginning, APEC was looking for a CMS that would enable them to go beyond the standard editorial features of a CMS to meet advanced integration needs. With native capabilities in this area, the Jahia platform allowed them to easily integrate other technologies.
"I find that it works well, we have the choice, either to do something with Jahia components, or we can also have pages where Jahia is the container in which we can integrate other technologies. (...) The advantage of Jahia is that it allows us to have both," emphasizes Hélène Catinaud.
The apec.fr website integrates business applications developed in angular and java directly into the web pages delivered by Jahia. The platform offers the flexibility to use its own Jahia components or other technologies depending on the client's needs.
... not forgetting the editorial
With over 20 business contributors from different teams, APEC needed a powerful and easy-to-use editorial tool. Jahia CMS offers them intuitive editorial features and an in-context contribution experience. Thanks to the latter, contributors can directly see the changes they make in the page to check and validate their work.
Customer satisfaction is our main objective
At Jahia, customer satisfaction is at the heart of our teams' work.
A customer testimonial is worth more than any marketing pitch, so Hélène Catinaud's statement is very valuable to us :
"We are fully satisfied with the platform. (...) Since 2015, at no point have we asked ourselves "is Jahia still the right product for us?". It seems like a no-brainer to be honest... Jahia fits our needs perfectly, to date we haven't found any limiting factors."
Back