5 ways to boost your SEO performance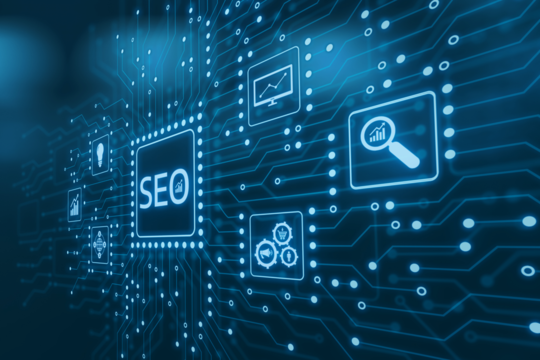 SEO is one of the best ways to drive traffic to your website. You should therefore bear this in mind when considering your digital and content strategies. Search Engine Optimization includes any techniques aimed at improving your website's ranking in search engine results pages.
If you're not an SEO expert, don't fret! To help you understand it more clearly, here are 5 ways you can improve your SEO.
Analyze your content
Search engines take into account a number of criteria, but checking that you have covered all bases can be time-consuming. With SiteImprove, you can analyze and optimize your content to improve your SEO. You can integrate its features into the Jahia user interface using a connector. The intuitive scoring system uses different criteria, including spelling mistakes, broken links and correct indexing of pages in the sitemap, to give you an SEO score. This, combined with suggestions for improvement, means you can easily detect SEO errors and quickly correct them.
Optimize your audiovisual content
By 2023, people in France will have an average of 3.6 devices connected to the internet. It is therefore essential that your sites can be easily accessed on all types of devices.
The Cloudinary tool adapts your graphic resources—such as images and videos—to the user's screen resolution, without degrading the source content. Being able to dynamically resize and modify images means your web pages will be smaller and therefore load faster. This point is not to be overlooked, as improving the web page loading speed is among the common recommendations made to improve search engine ranking.
Create vanity URLs
You may not have heard much about vanity URLs but they are a useful tool for improving SEO. Vanity URLs allow you to customize your URLs by making them shorter, more relevant and including keywords that can be used for SEO.
With Jahia, you can create vanity URLs in just a few clicks.
Don't forget your Metadata
Metadata is the information used to describe the content on your web pages. These include the short descriptions that appear in search results. It is therefore important to use them wisely by adding the keywords for that particular page, to achieve a better search engine ranking.
With Jahia's content management platform, you can easily manage the metadata of each of your pages. You also have the option not to index certain pages if they are not relevant, so that they do not appear in Google search results.
Generate a sitemap
A sitemap is a file listing all your website's pages. A good sitemap is vital for good SEO as it helps search engines navigate your website.
Jahia's Sitemap module allows you to automatically generate several sitemap files, including one per language which can be published on your website to help search engines target the right site for the right language and region.
Improving your organic ranking shouldn't be a problem when you implement these simple tips courtesy of the Jahia platform.
For more information on how Jahia can help improve your digital performance, contact our team now!
Back