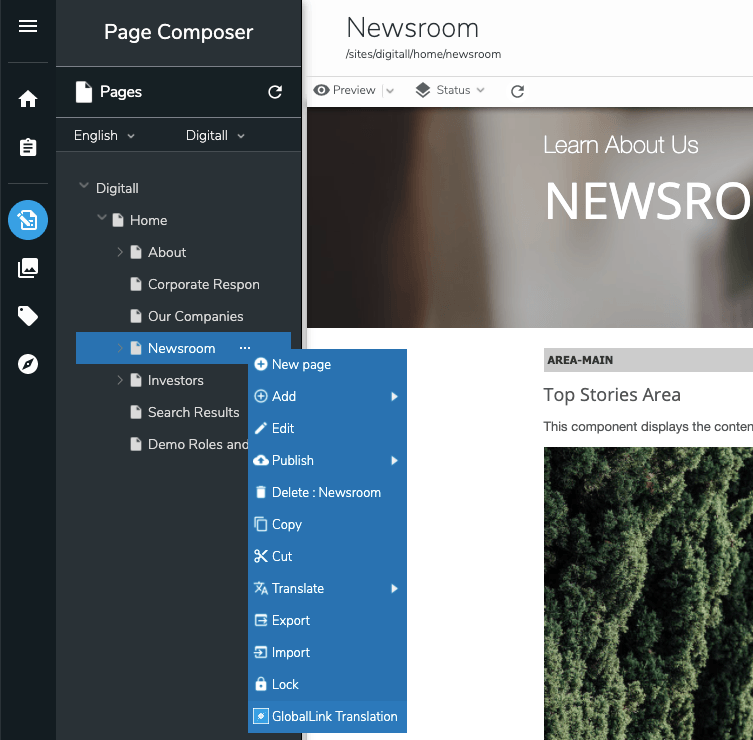 Faster Translation Workflows
With Jahia DXP
Jahia empowers you to automatically translate your content inside of jExperience, utilizing GlobalLink and Translations.com. Translation requests are queued directly from your Jahia UI, wherein they are funneled into GlobalLink and updated to the targeted language before being passed back into Jahia for review and publication.
Translated content can be shared across other sites and pages, enabling multi-lingual personalization. Each translation request can be tracked within both Jahia and on Translations.com, with notifications once requests are completed.
Why Jahia + Translations.com?
Jahia's Digital Experience Platform (DXP) offers a wide variety of content management tools that empower marketers to deliver cohesive, personalized digital experiences to their customers. With a focus around multi-site, multi-language management and the ability to customize content for specific audiences, we are uniquely capable to support you in taking full advantage of the translation capabilities via Translations.com and GlobalLink:
Simple, easy-to-use translation functionality available directly within your Jahia instance

Seamless integration ensuring translations are fast and simple

Easily map your Jahia Language/Locale variations with those in your Translations.com project

On-demand analytics so you can compare the performance of translated content
Let's Talk
Get in touch to learn more about the partnership.